Once the job description has been written, obtaining approval from the hiring manager is the next step. Then the HR professional can begin to recruit for the position. Before we discuss specific recruitment strategies, we should address the law and how it relates to hiring. This is the topic of Section 4.2 "The Law and Recruitment".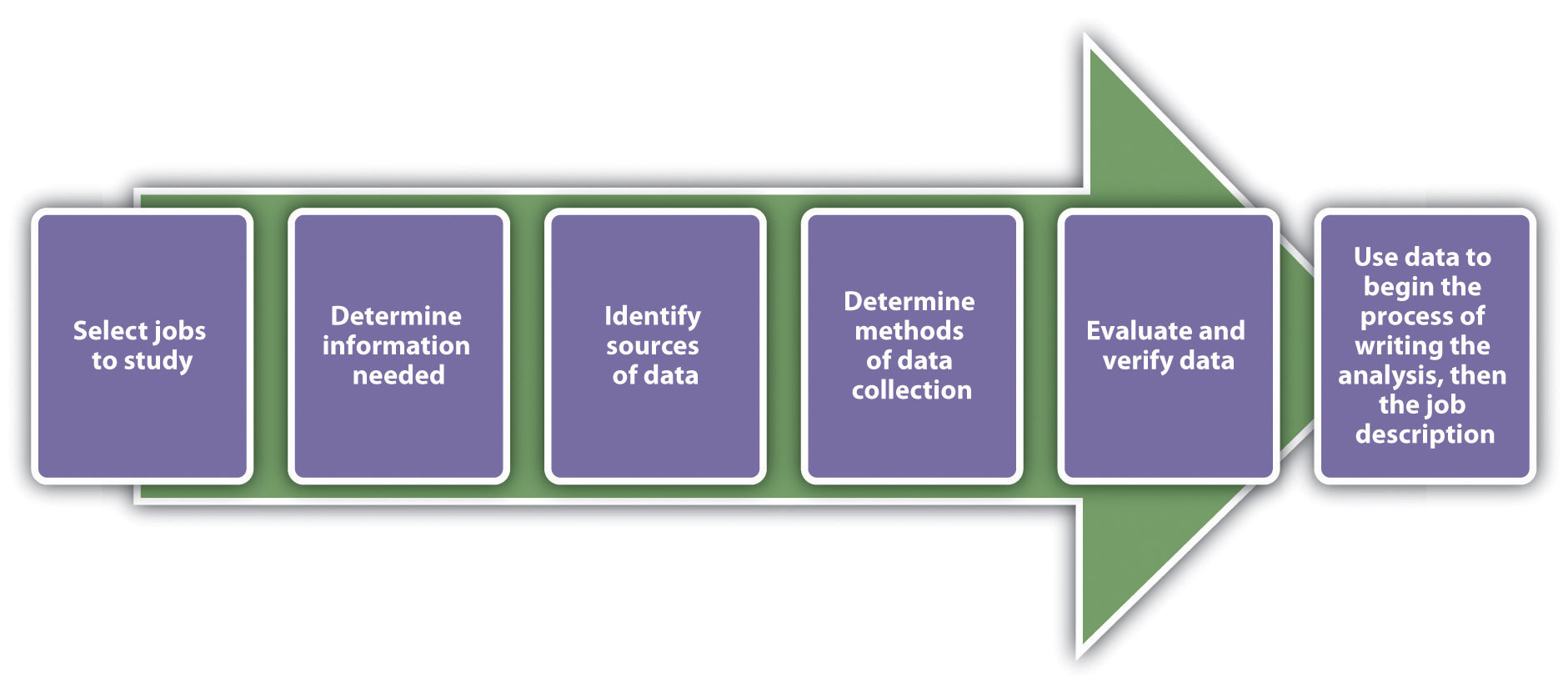 1 The Recruitment Process
The recruitment process is an important part of human resource management (HRM). It isn't done without proper strategic planning. Recruitment is defined as a process that provides the organization with a pool of qualified job candidates from which to choose. Before companies recruit, they must implement proper staffing plans and forecasting to determine how many people they will need. The basis of the forecast will be the annual budget of the organization and the short- to long-term plans of the organization—for example, the possibility of expansion. In addition to this, the organizational life cycle will be a factor. Organization life cycle is discussed in Chapter 2 "Developing and Implementing Strategic HRM Plans". Forecasting is based on both internal and external factors. Internal factors include the following:
Once the forecasting data are gathered and analyzed, the HR professional can see where gaps exist and then begin to recruit individuals with the right skills, education, and backgrounds. This section will discuss this step in HR planning.
Recruitment Strategy
Although it might seem easy, recruitment of the right talent, at the right place and at the right time, takes skill and practice, but more importantly, it takes strategic planning. In Chapter 2 "Developing and Implementing Strategic HRM Plans", development of staffing plans is discussed. An understanding of the labor market and the factors determining the relevant aspects of the labor market is key to being strategic about your recruiting processes.
The first step in the recruitment process is acknowledgment of a job opening. At this time, the manager and/or the HRM look at the job description for the job opening (assuming it isn't a new job). We discuss how to write a job analysis and job description in Section 4.1.2 "Job Analysis and Job Descriptions".
Assuming the job analysis and job description are ready, an organization may decide to look at internal candidates' qualifications first. Internal candidates are people who are already working for the company. If an internal candidate meets the qualifications, this person might be encouraged to apply for the job, and the job opening may not be published. Many organizations have formal job posting procedures and bidding systems in place for internal candidates. For example, job postings may be sent to a listserv or other avenue so all employees have access to them. However, the advantage of publishing open positions to everyone in and outside the company is to ensure the organization is diverse. Diversity is discussed in Chapter 3 "Diversity and Multiculturalism". We discuss more about internal and external candidates and bidding systems in Chapter 5 "Selection".
Then the best recruiting strategies for the type of position are determined. For example, for a high-level executive position, it may be decided to hire an outside head-hunting firm. For an entry-level position, advertising on social networking websites might be the best strategy. Most organizations will use a variety of methods to obtain the best results. We discuss specific strategies in Section 4.3 "Recruitment Strategies".
Another consideration is how the recruiting process will be managed under constraining circumstances such as a short deadline or a low number of applications. In addition, establishing a protocol for how applications and résumés will be processed will save time later. For example, some HRM professionals may use software such as Microsoft Excel to communicate the time line of the hiring process to key managers.
Once these tasks are accomplished, the hope is that you will have a diverse group of people to interview (called the selection process). Before this is done, though, it is important to have information to ensure the right people are recruited. This is where the job analysis and job description come in. We discuss this in Section 4.1.2 "Job Analysis and Job Descriptions".
RESUME ASSISTANCE
Companies are increasingly using mobile devices to review job applications, it's even more important to make sure your resume looks great on any screen. A study has shown that 80% of hiring managers will "pass" on a resume with 1-2 grammar mistakes. Let our team create an ATS friendly, professional resume and cover letter for you. We test your resume in our ATS to ensure it uploads perfectly 100% of the time. Your resume should best represent the value you can offer a company.
Recruiting Energy Recruiter Energy Marketing Energy Analysis Recruiter Oil and gas recruiter recruiting houston texas houston recruiter texas recruiter energy markets recruit hiring need to hire need to recruit how to hire need a recruiter midland odessa north dakota recruiter recruiter recruiting energy energy marketing marketing
VIKING RECRUITING RESOURCES
READY FOR A NEW CAREER?
Our energy client is now seeking an Internal Auditing Manager for their Houston, TX office. This is a hybrid role.Overall:The Internal Audit Manager will be a key member of the audit team by assisting the Chief Audit Executive in executing the Company's risk-based internal audit plan by managing audit activity and assigned audit personnel. The […]
Our client is seeking an experience Principal Engineer for a permanent opportunity in Midland, TX. Relocation assistance is available for this role. Job SummaryProvides technical support to ensure safe, reliable and efficient operation of pipelines, plants and field assets. Manages process simulation modeling, scope, design, equipment specification, cost estimates, bidding, installation and management of small […]
Our client is seeking a full-time, permanent Plant Mechanic to work in several assets near Odessa and/or Goldsmith. You must live near this area or be willing to relocate permanently for this role. Relocation assistance is provided.Leads and/or performs overhauls of compressors and engines engine swings. Works autonomously at varying times and in diverse weather […]
A growing company in Midland, Texas is seeking a full-time, permanent Document Control Specialist (Onsite).We're seeking someone with at least 1 year of recent document management systems experience.Locals only at this time.SharePoint Software experience is a huge plus.Salary is based on experience but may range from $55K to $60K. The company also offers full benefits. […]
Our client is seeking a Laborer for a full-time, permanent opportunity. This individual will report to the office in Williston, ND. Some local travel is expected. Overtime is expected. Candidates need to be able to consistently lift 100 lbs and work 14+ hour days, sometimes for two weeks straight.Oil field experience is a plus.Experience with the […]
Our client is seeking an Electrical, Instrumentation & Controls Engineering Lead for their office in Katy, TX. This is a full-time, permanent opportunity. Midstream and/or downstream experience required.Description: This individual is responsible for leading, managing and actively participating in the EI&C engineering facets of an EPC project – from early development phase to commissioning and […]
Our client is seeking an experience Equipment/Store Manager in Albuquerque, NM. We are seeking a highly motivated person with a positive attitude and a desire to exceed our customers' expectations in the Albuquerque Branch. The ideal candidate will have a sales driven mentality that will help establish a new customer base as we grow in […]
Our Client is seeking a Senior Project Purchaser for a long-term contract-to-hire opportunity in their busy Houston office. Hourly plus per diem (see below).The Senior Project Purchaser plans, manages, and coordinates all procurement activities on assigned projects, including purchasing, expediting, material management, supplier quality, logistics and field procurement. This position will support the accounting team […]
Our Client is seeking a Level II Field Inspector for NDT/NDE services. This individual will work mainly out of the Charleston, WV office and is expected to oversee multiple projects (in the area) simultaneously.We are seeking someone with 2-6 years of experience- not a senior level role.Responsibilities:Manage field crews and ensure they're following company procedures.Perform […]
Landscape Architectural DesignerOur Client is seeking an enthusiastic, collaborative and detail-oriented landscape architectural designer with at least 2 years of experience and with a strong interest in the technical components of landscape architectural practice. This is a production position that will involve regular coordination between the landscape architecture, surveying, permitting, and civil engineering disciplines at […]
Our client is seeking an experienced Gas Compressor Field Mechanic for a full-time, permanent position located in Carlsbad and Artesia, NM as well as Odessa/Midland, TX. We are not looking for auto or diesel mechanics.Overall: Mechanics run diagnostics, visually inspect, troubleshoot, and repair all our mechanical operations to ensure we minimize downtime.Daily: Perform troubleshooting, repair […]
Looking for someone strong on the Electrical side as well as someone who can manage multiple small projects occurring simultaneously.Seeking someone very outgoing and engaging as this individual will interface with customers daily/weekly. Looking for strong I&E, not I&C. Local travel is required.Summary:Manage a team of engineering supervisor(s) and engineers who perform instrument engineering assignments associated […]
Manager, Accounting Advisory – Boston, MA (Remote) Our client is currently seeking a remote Accounting Manager to join their Accounting Advisory team. This is a unique opportunity to work alongside the firm's senior management team and partner group. The Manager will oversee the financial reporting and technical accounting engagement work plans, will demonstrate excellent project […]
Resources:
https://open.lib.umn.edu/humanresourcemanagement/chapter/4-1-the-recruitment-process/
https://open.lib.umn.edu/humanresourcemanagement/chapter/4-1-the-recruitment-process/
https://vikingrecruiting.com/job-seekers/